Monthly publication - November 2000 Issue

*~*~*~*~*~*~*~*~*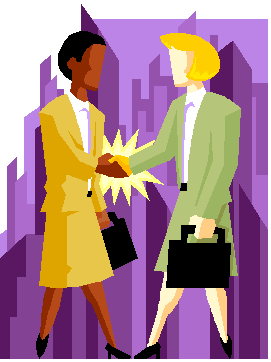 Welcome to the November issue of the Learning Center Newsletter.

If you enjoy the newsletter, please forward its web address to a colleague that would benefit from it.

We need your help in writing articles. I'm sure you have something to share with your colleagues: A technology tip, a useful web site, a book review, a conference announcement, a learning-assistance organization, or a nomination for the Person of the Month column. We welcome your contributions to these or any other subject of interest to learning-assistance professionals. For submission guidelines, click here.

We appreciate your continued support. Hope you enjoy the new issue.

Mon Nasser Editor

*~*~*~*~*~*~*~*~*

By Frank L. Christ
Tip #5:
MAINTAIN PROGRAM VISIBILITY ON CAMPUS WITH BOOKMARKS
.
In addition to brochures, three-hole punched program flyers, and place mats in faculty/staff dining areas, print lots of different types of bookmarks. Design one as a calendar of your programs and services. Another as an information piece. Another to publicize your campus and learning center web site.
Bookmarks are very cost effective and should be printed on cardboard or index card stock. Students generally do not trash bookmarks. They are functional and just-in-time reminders of the programs and services of the center as students use them in their textbooks. With the cooperation of the campus bookstore, they can be inserted in different textbooks each semester. And, of course, they can be handed out at presentations, sent to faculty, and inserted in orientation packets.
*~*~*~*~*~*~*~*~*

NCLCA Annual Conference
By Charlotte Short, University of Wisconsin-Parkside

The National College Learning Center Association (NCLCA) held its 15th annual conference Nov. 4-6 in Minneapolis, MN.
The conference began with a pre-conference workshop "On-line Tutoring: Development, Implementation and Process, Evaluation, and Future Perspectives" with Sandie Miller and Chris Gamboa from Atlantic Cape Community College. As on-line courses increase, the need for on-line tutoring also becomes a necessity for students who have little time to come to campus for tutoring. Sandie and Chris led the participants through an analysis of their own programs and a look at the on-line tutoring program at Atlantic Cape Community College.
The conference's key note speakers were Martha Casazza and Sharon Silverman who have written two definitive books on learning and development, including their popular guide for Learning Assistance. Addressing "Making Connections to Enhance Learning," Sharon and Martha spoke to the critical connection between learning and development, and how self and identity, interaction with the environment, motivation, ways of knowing, learning styles and preference, and goal setting contribute to the learning process. Using anecdotal scenes, they helped the audience envision the plight of the learner and alternate approaches that can lead to success.
Thirty breakout sessions featured topics ranging from supplemental instruction, learning disability issues, writing proposals, learning communities, to learning center topics, alternative programs, and the Past President's panel offering the voice of experience. The variety of Learning Center configurations and services provided by the multitude of schools was impressive. Speakers came from across the continent, including a panel from the City University of New York's Special Programs and another from American University in Washington, DC.
NCLCA was honored to have David Ortiz, the 1999 Brenda Pfaehler Professional Development Award winner, present his project, "Group Emerging Leaders: A Comprehensive Approach to Leadership Development."
Jeanne Higbee, of the General College at the University of Minnesota, spoke at the closing luncheon about the "Learning Assistance profession." When the group was asked "How many of you were in this profession 20 years ago?" not a single hand was raised, highlighting the newness of this career. Many hands went up when asked the same question with reference to five years or less. Similar results were obtained when attendees addressed their reason for being in the profession, be it choosing Learning Assistance or happening into it by circumstance. Jeanne spoke of the need for institutional respect and support for the profession and the valuable services to students that we provide.
Jeanne's address prefaced a post-conference visit to the General College and the Center for Research on Developmental Education and Urban Literacy. We were treated to a tour of the facility and an overview of student services. A Student Support Services module with a self-contained classroom and classes and a demonstration of adaptive technology by the Curriculum Transformation and Disability effort were of particular interest. Unique to the mission of the General College, from this writer's point of view, was a "students with children" area providing services such as information on finding day-care facilities, assistance with solutions to the multitude of problems that can impact these students, and counseling about relationship issues.
The next NCLCA conference will be held in October, 2001, in Evanston, Illinois. Watch for information about the conference and the Brenda Pfaehler Professional Development award at the NCLCA web site:
http://www.eiu.edu/~lrnasst/nclca/index.html
*~*~*~*~*~*~*~*~*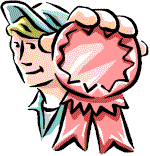 Gen Ramirez, Director of the LAC at Cal State U Long Beach
In 1988 Gen Ramirez became the second director of the Learning Assistance Center at California State University, Long Beach, succeeding founder Frank Christ. With a doctorate in languages and literatures from UCLA, she had already served as a university professor for nearly 15 years and had been actively involved in a wide range of interdisciplinary programs and campus-wide efforts, particularly in the 1970's programs to prepare teacher aides to become bilingual teachers. Her extensive work with first-generation students in particular involved her in helping students learn to learn and generated an interest in broader learning issues than just the particular curriculum she was teaching. Stepping in to follow Frank was both a daunting challenge and an exciting opportunity!
In addition to her broad campus responsibilities, Dr. Ramirez enjoys helping other campuses develop or modify their own learning centers, tutoring programs, SI programs, or support programs for ESL students. She attributes the success of the Long Beach program to the solid foundations and reputation Frank established, an excellent staff of dedicated professionals, strong working relationships with university faculty in all academic areas and with categorically-funded support programs. These ingredients have allowed Long Beach to be a comprehensive learning center in the broadest sense; the program provides a wide spectrum of services supporting students at all levels (from middle school and high school students to MA/MS candidates) by blending university resources with categorical monies (TRIO, EOP, DSS, etc.) to provide a greater level of support to the entire campus population.
Gen also serves on the Editorial Board of the Journal of Developmental Education, the Center for Opportunity in Education's Assessment Faculty (training TRIO professionals), and has been a faculty member at both the Winter Institute for Learning Assistance Professionals and the Kellogg Institute for Developmental Educators. In the mid 1990's she was part of the national team evaluating the Texas Academic Skills Program.
For relaxation Gen wants to get totally away from the accoutrements of the office. She loves to travel and enjoys the outdoors: hiking, boating, gardening nature photography … with favorite US destinations being Alaska and Hawaii.
Congratulations to Gen on her accomplishments and our many thanks for being our November Person of the Month.
*~*~*~*~*~*~*~*~*

Deadline Extended for the First Annual Learning Center Awards
The deadline for the First Annual Learning Center Web Awards, sponsored by the Winter Institutes, has been changed to November 18. Learning Center Directors can submit their site for the award competition by emailing Frank L. Christ at flchris@primenet.com. Indicate the site name, its URL, your name, position, institution, and return email address.
Winners to be announced at the Winter Institute banquet on January 6, 2001 in Phoenix, and will receive an award plaque, a prize donated by a publisher, and the right to place a specially designed award icon on their learning center home page. In addition, a letter will be sent to the award winner's president or other designated senior administrator, and an announcement of the award winning sites will be sent to learning center and Internet related newsletters and journals.
Judging criteria, updates, and results of the web site contest will be posted on the Learning Support Centers in Higher Education web site: http://www.pvc.maricopa.edu/~lsche/
*~*~*~*~*~*~*~*~*


Email has become an important part of our daily routine. It provides us with the convenience to communicate with people anytime of the day or night. Here are some tips on using this powerful communication tool:
Use a professional address: Use your college email address for a more professional look. An address like Tom3485@aol.com does not give your message a lot of credibility, specially if you're writing people who don't know you.
Use BCC: If you send a message to several recipients, put your email address in the "To:" section and the recipients' addresses in the "BCC" section. BCC stands for Blind Carbon Copy, meaning the addresses you put here will not show up in your message. This protects the privacy of the recipients and spares them from receiving a copy of the reply if one of them sends one.
Quote: When you reply to a message, quote the relevant parts so that the recipient knows what you are referencing. Messages with one word like "Yes." may not ring a bell with the recipients. To make it more convenient, type your reply at the top of the message and include the quoted parts under it.
Don't over-quote: If you simply quote each message you get, and the recipient does the same, it won't be long before you end up with a very long message of many quotations levels and only a few new lines at the top. To save bandwidth and hard drive space, only quote the parts of the last message that are relevant and delete the rest.
Capitalization: Be careful how you type your message. If you accidentally hit the caps lock while typing and type everything in upper case, the recipient might be offended. In email, capital letters signify YELLING.
Know emoticons: Experts say that more 80% of our face-to-face communications is non-verbal. A lot is lost in email messages since the reader cannot see or hear the sender's body language. To compensate, email users utilize emoticons, symbols that represent facial expressions to help convey their emotions. To interpret an emoticon, look at it with your head tilted to the left. For example, an " :)" indicates a smile. For a list of common emoticons, visit this site:
http://www.ezboard.com/intl/aenglish/help/emoticons.html
Know the Acronyms: Email users utilize acronyms for common words and phrases. You might have seen these abbreviations: BTW, OTOH, AFAK, LOL, and BRB, but do you know what they mean? If not, here is a web site that explains these and other email abbreviations:
http://users.erols.com/amato1/AC/Reg.acr.html
Indicate attachment usage: Some email recipient don't notice or can't tell that you have attached a file to your message. To make things easier, reference the attachment in your message and include the file's name and type. Here is an example: "I attached the LD checklist to this message. The 'checklist.doc' file is in MS Word 97 format."
Remember the attachment: A good way to avoid forgetting to attach files to your message is to attach them immediately after referring to them. For example, if you type "I am attaching the file...", stop and attach the file, then finish typing your message.
Run your spell-checker: It only takes a few seconds, and it will make your message clearer and more professional.
Use http: When including a web link in your message, always type it in the form of "http://…". Most e-mail programs will recognize this format and will allow the readers to click on it to open the referenced web site in their browser. Without the "http://" prefix these programs will not recognize the URL and the user will need to copy the address and paste it instead of simply clicking on it.
Email privacy: Keep in mind that email messages may not be private. Many people from your network administrator to the ISP provider might be able to read your messages. Also, anyone using your computer might be able to read your new and old messages, and the message recipient might forward your message to someone else.
For more on this subject, visit these links:
The Unofficial Smiley Dictionary
The WorldWideWeb Acronym and Abbreviation Server
Netiquette Guidelines by Sally Hambridge
The Net: User Guidelines and Netiquette by Arlene Rinaldi
*~*~*~*~*~*~*~*~*

Blackboard.com
Ever thought of creating an online course? Blackboard.com gives you the opportunity to experience with this new concept for free. Through this site, instructors can setup a virtual Course Site that offers course material, threaded discussions, real-time chat and whiteboards. The site also supports assessment tools that automates test taking and grading. Other features include online work groups, and the ability to track students' visits and work.
Instructors can post announcements, syllabus, and assignments online giving students 24 hour a day access to course materials. This material can be in the traditional text format, or it can be in audio, video and still images. Students may place their work assignments in a drop box for instructor or TA to pick up.

According to Blackboard.com, benefits of online courses include the following:
| | |
| --- | --- |
| | Enhancing student-to-student and faculty-to-student communication. |
| | Students share perspectives through online forums. |
| | Instructors are more accessible through asynchronous contact. |
| | Enabling student-centered teaching approaches supporting different learning styles. |
| | Continuous and global accessibility to course materials. |
| | Just-in-time methods to assess and evaluate student progress. |
| | Reduced faculty workload. |
I'm not sure about the last benefit though, as setting up and maintaining an online site will naturally require additional work from the instructor. However, once set up, instructors can use the same material for future courses.
The setup process for a course was easy. Everything is done through the graphical user interface, with no web programming knowledge needed. You set up the course by entering course and institution names, then you select buttons styles, target audience (e.g. higher education), subject area (e.g. Math), and enrollment options: Instructor enrollment (Instructor must enroll all students in the course), or Self enrollment (Students enroll themselves). If you choose the latter, you can restrict enrollment to your students by requiring an enrollment access code.

After entering instructor's info (name and contact), I was given web site address for my test course:
http://www.blackboard.com/courses/VFP100/
You can visit the above site to experiment with it. To enroll, you will need the enrollment access code, "LCN".
Once you have created the site, you can use the Control Panel button to post announcements, upload lecture notes and assignments, add staff info, maintain course calendar, check site stats, and communicate to students through email or threaded discussions. If you need help using these features, there is an online instructor manual accessible through the Control Panel.
You can also create online quizzes. There are 4 formats available: Multiple-choice, T/F, fill-in the blanks, and essay. Of course if students are taking tests at home, they have access to books and friends, so these tests may only be useful for self-assessment or practice.
Blackboard.com allows you to create an online site for free. This includes unlimited use of a CourseSite and 5 MB of storage space for course materials. For a $100 you get 10 MB of space, unlimited access for one year, and technical support.
To create your own online course, visit Blackboard.com at this web site:
http://www.blackboard.com/bin/generatemain.pl
*~*~*~*~*~*~*~*~*

TypingMaster 2001
Are you still typing with mostly the "hunt and peck" method? Are typing mistakes slowing you down? An increase in your typing speed and accuracy will save you time, and will make you look more professional. Fortunately you don't have to take a typing class to learn how to hone your typing skills. With TypingMaster, you can do this from the convenience of your desk at your own pace and schedule.
TypingMaster is a typing tutor software for Windows. It will only take you a few hours to learn ten-finger touch-typing. If you already know how to type, TypingMaster can help you increase your speed and accuracy through typing games and practice exercise. For those who want to learn using the numeric keypad, the software includes a course on this subject too.
You can download a shareware version of TypingMaster from this web site:
http://www.typingmaster.com/tutor3.htm
The shareware version has a limit of three practice lessons. If you like the software, you can register it for about $30. Schools can get discounted licensing packages, which include a module for tracking students' progress.
*~*~*~*~*~*~*~*~*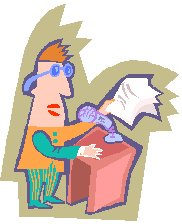 National Conference on Students in Transition
November 1- 4, 2000
Cincinnati, OH
Attendees will hear about the latest efforts to change campus structures and programs to promote the learning, success, and retention of college students in transition.
http://www.sc.edu/fye/conferences/sit/index.htm
*~*~*~*~*~*~*~*~*
NWCA 5th National Conference
November 2-4, 2000
Baltimore, MD
The National Writing Centers Association (NWCA) conference's goal is to provide a setting where all those who work in writing centers can exchange ideas and information. For more information visit the conference web site at:
http://www.english.udel.edu/wc/mawca/nwcacon.html
*~*~*~*~*~*~*~*~*
CRLA 33rd Annual Conference
November 8-11, 2000
Reno, Nevada
The College Reading and Learning Association (CRLA) conference, "Research, Practice, Reflection for a new generation" key note speaker is Gary Soto. Luncheon Speaker-Robert Sherfield.
http://www.crla.net/2000_Conference.htm

*~*~*~*~*~*~*~*~*
NADE National Conference
March 14-18, 2001
Louisville, Kentucky
Each year the National Association for Developmental Education (NADE) offers a national conference that attracts over 1,400 educators from across the U.S. In addition to nationally-known plenary speakers, nearly 200 concurrent sessions provide a comprehensive treatment of developmental education issues.
http://www.geocities.com/Athens/Olympus/7005/index.html
*~*~*~*~*~*~*~*~*
NTA 9th Annual Conference
April 22-25, 2001
Indianapolis, Indiana
The National Tutoring Association (NTA) conference provides the latest in tutor information, training, and the opportunity to network with other tutors and administrators. This year's keynote speakers are Dr. Al Gronowsky and Dr. John Chaffee . For more information visit the NTA's web site at:

Changing File Type Association, a Quicker Way.
In the last issue we discussed file type associations and showed you how to change them through Windows Explorer. Here is a quicker way of doing this.
Using the same example for changing the text file association from NotePad to Microsoft Word, here are the steps:
Click once on any *.txt file to highlight it. Clicking twice will open the file, so only click once.

Hold down Shift key as you click on this file with the RIGHT mouse button.

Select Open With from the pop-up menu.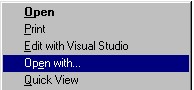 The "Open With" box will appear. Scroll through and select the application you'd like to use to open this file. In our case, we want to select "WINWORD".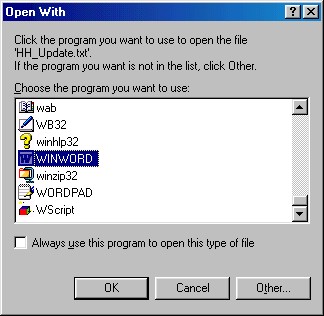 If you want to open all files of this type using this application, check the box "Always use this program to open this type of file", and click OK.
This changes the association permanently, and from now on when you double-click any *.txt file it will open in MS Word instead of NotePad.
*~*~*~*~*~*~*~*~*

Actual Headlines
It's amazing how the absence of punctuation, incorrect word-order, or simply using the wrong words can make a big difference in meaning. Just look at these actual headlines:
| | |
| --- | --- |
| | Police Begin Campaign to Run Down Jaywalkers. |
| | Drunk Gets Nine Months in Violin Case. |
| | Farmer Bill Dies in House. |
| | Iraqi Head Seeks Arms. |
| | Prostitutes Appeal to Pope. |
| | Eye Drops off Shelf. |
| | Teacher Strikes Idle Kids. |
| | Squad Helps Dog Bite Victim. |
| | Enraged Cow Injures Farmer with Axe. |
| | Miners Refuse to Work after Death. |
| | Juvenile Court to Try Shooting Defendant. |
| | Stolen Painting Found by Tree. |
| | Two Soviet Ships Collide, One Dies. |
| | Killer Sentenced to Die for Second Time in 10 Years. |
| | War Dims Hope for Peace. |
| | If Strike isn't Settled Quickly, It May Last a While. |
| | Enfields Couple Slain; Police Suspect Homicide. |
| | Red Tape Holds Up New Bridge. |
| | Deer Kill 17,000. |
| | Man Struck by Lightning Faces Battery Charge. |
| | Astronaut Takes Blame for Gas in Spacecraft. |
| | Kids Make Nutritious Snacks. |
| | Chef Throws His Heart into Helping Feed Needy. |
| | Ban On Soliciting Dead in Trotwood. |
| | Lansing Residents Can Drop Off Trees. |
| | Local High School Dropouts Cut in Half. |
| | New Vaccine May Contain Rabies. |
| | Man Minus Ear Waives Hearing. |
| | Air Head Fired. |
| | Old School Pillars are Replaced by Alumni. |
| | Bank Drive-in Window Blocked by Board. |
| | Hospitals are Sued by 7 Foot Doctors. |
| | Some Pieces of Rock Hudson Sold at Auction. |
| | Sex Education Delayed, Teachers Request Training. |
| | Cemetery allows people to be buried with their pets. |
| | Man Found Beaten, Robbed by Police. |
| | Kicking baby considered to be healthy. |
| | Sudden rush to help people out of work. |
| | Dad Wants Baby Left in Airplane. |
| | New Housing for Workers Not Yet Dead. |
| | Ex-Female Ump Files Sex Discrimination Charge. |
| | Dentist receives plaque. |
| | Serious Crime Down, But Murders Increase. |
| | Richard Burton faces surgery on his back. |
| | Another body found missing. |
| | Man robs, then kills himself. |
| | Two teenagers indicted for drowning in lake. |
| | Cops quiz victim in fatal shooting. |
| | Philadelphia Aims at Illiteracy. |
| | Missouri Gas Chamber is Unsafe. |
| | March Planned For Next August. |
| | Lingerie Shipment Hijacked - Thief Gives Police The Slip. |
| | L.A. Voters Approve Urban Renewal By Landslide. |
| | Patient At Death's Door - Doctors Pull Him Through. |
| | Latin Course To Be Canceled - No Interest Among Students, Et Al. |
| | Diaper Market Bottoms Out. |
| | Croupiers On Strike - Management: "No Big Deal". |
| | Stadium Air Conditioning Fails - Fans Protest. |
| | Lawyers Give Poor Free Legal Advice. |
| | Fund Set Up for Beating Victim's Kin. |
| | Nicaragua Sets Goal to Wipe Out Literacy. |
| | 20-Year Friendship Ends at Altar. |
| | Half of U.S. High Schools Require Some Study for Graduation. |
*~*~*~*~*~*~*~*~*


There is only one way under high heaven to get anybody to do anything. And that is by making the other person want to do it."
Dale Carnegie
*~*~*~*~*~*~*~*~*
"Focus on remedies, not faults."
Jack Nicklaus
*~*~*~*~*~*~*~*~*
"There are two kinds of people, those who do the work and those who take the credit. Try to be in the first group; there is less competition there."
Indira Gandhi
*~*~*~*~*~*~*~*~*
"Be kind and merciful. Let no one ever come to you without coming away better and happier."
Mother Theresa
*~*~*~*~*~*~*~*~*
"He who asks a question is a fool for a minute; he who does not remains a fool forever."
Chinese Proverb
*~*~*~*~*~*~*~*~*
"It's kind of fun to do the impossible."
Walt Disney
*~*~*~*~*~*~*~*~*
"Only the curious will learn and only the resolute will overcome the obstacles to learning. The quest quotient has always excited me more than the intelligence quotient."
Eugene S. Wilson
*~*~*~*~*~*~*~*~*
"One should guard against preaching to young people success in the customary form as the main aim in life. The most important motive for work in school and in life is pleasure in work, pleasure in its result, and the knowledge of the value of the result to the community."
Albert Einstein
*~*~*~*~*~*~*~*~*

Get involved in the learning-assistance community via The Learning Center Newsletter by:
| | |
| --- | --- |
| | Submitting articles of interest to learning-assistance professionals. |
| | Informing us about conferences and other happenings. |
| | Nominating your favorite learning center professional for the Person of the Month corner. |
| | Sharing resource information with your peers: web sites, publications, etc. |
The regular article length is one page, 12 points, single line spacing. If the article is much longer we may put it in a separate html page and only show the first page of the article in the newsletter with a link to the full article.
The newsletter is usually released during the first week of each month. For an article to appear in a certain month, it should be received by the 25th of the previous month. For example, articles received by November 25 will appear in the December issue.
The subject of submitted articles must be of interest to learning-assistance professionals. The editor of this newsletter reserves the right to reject inappropriate articles at his discretion.
Submitting your article will make you more famous and will help your colleagues worldwide! E-mail your submissions to:
newsletter@attendance-tracking.com
*~*~*~*~*~*~*~*~*


We certainly hope you find this newsletter useful and entertaining. We welcome your suggestions and improvements ideas. Also if you enjoy reading this newsletter, let us know. We would like to hear from you, so e-mail us your feedback by clicking here.
*~*~*~*~*~*~*~*~*

This newsletter is produced by Mon Nasser from Engineerica Systems, Inc. My thanks to this month's contributors: Frank Christ, Charlotte Short, and Gen Ramirez, our November Person of the Month.
*~*~*~*~*~*~*~*~*

The October issue of the Learning Center Newsletter featured:
| | |
| --- | --- |
| | "Keep a Management Journal", a tip from Frank Christ. |
| | Dr. Gene Kerstiens, October's Person of the Month. |
| | "Whatever happened to Spritsma!" by Dr. Gene Kerstiens. |
| | "Support Groups for Students with Learning Disabilities" by Daniel Berkowitz. |
| | Do you Google? |
| | Speed Reading on the Web. |
| | FTP Voyager. |
| | Changing Application Associated with a File Type. |
| | Quotes by Emerson, Mark Twain, Ghandi, Einstein and others. |
To view the October issue, click here.
*~*~*~*~*~*~*~*~*

Subscription to The Learning Center Newsletter is free for learning centers professionals. To subscribe simply fill-in the quick subscription form at this web site:
http://www.attendance-tracking.com/join_lcn.htm
Only those who subscribe to The Learning Center Newsletter receive an e-mail notification when a new issue is released. If you wish to unsubscribe, e-mail to:
unsubscribe@attendance-tracking.com
*~*~*~*~*~*~*~*~*