September 2002 Issue

Person of the Month
Dr. Rick Sheets, Paradise Valley Community College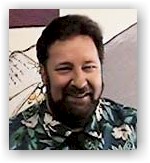 Rick Sheets has been involved in learning support services for twenty years and was the founding director of the Learning Support Center (1987-1997) at Paradise Valley Community College, Maricopa Community Colleges, Phoenix, AZ. He is currently the Director of the Computer Commons, a centralized student-use computer lab with over 500 computers and eleven class labs.
A brief series of events in Rick's life:
| | |
| --- | --- |
| | 1971 – Rick became an Eagle scout at 18 as his dad was. |
| | 1975 – Completed an innovative Teacher Training program – Washington Outreach and began teaching, following in the footsteps of both of his parents. |
| | 1977 – Met and married his friend, life-partner, and wife (all the same person), Barbara. "We continue to long to grow old together learning and sharing life with each other daily. She is a very caring, witty, and neat individual of whom I was very fortunate to meet." |
| | 1982 – Rick began working in Learning Assistance in a Community College. |
| | 1985 – Completed the Kellogg Institute & practicum as a Developmental Education Specialist. |
| | 1987 – Completed Advanced Training Seminar in 4MAT (an instructional model based on learning preferences) |
| | 1987 – Began a new Learning Assistance Center at a new Community College (PVCC). |
| | 1994 – Completed Ed.D. in Curriculum and Instruction at Arizona State University in August of 1994. His dissertation (now online), "The Effects of Training and Experience on Adult Peer Tutors in Community Colleges" drew from experts in the field to identify correct responses to tutoring scenarios to assess tutors' skills. In addition to the dissertation, he co-authored two journal articles with Dr. Sally Rings Krueger (colleague and friend), and co-edited and co-authored a CRLA monograph with national mentors in the field. |
Dr. Sheets professional accomplishments include:
Won the PVCC Innovator of the Year award from the League for Innovation in the Community College three different years while at PVCC:

1989 with a colleague for the development of the Tutor Training program at PVCC

1998 as the chair of a Technology Training development team which incorporated input from and initiatives for the campus as a whole, and

2001 as a member of an Employee and Organizational Development Team, which developed a cohesive interactive means to organize, fund, coordinate, and have participants share their gained information from professional growth activities and incorporate learning back into the organization of PVCC.

For the last ten years, Rick has been a co-director for the Winter Institute (with Frank Christ, Sylvia Mioduski, and David Gerkin).

The 1995 conference site chair for the CRLA conference in Tempe, AZ

A former chapter president of SWADE (a regional chapter of NADE) and AZ CRLA.

Has been at the annual national Technology Institute for Developmental Educators (TIDE) in 2000 & 2001, in Texas.

Consulted formally and informally with other colleges in designs for Learning Assistance services and technology designed to support student learning.

Co-editor of the CRLA monogragh, "Starting a Learning Assistance Center…". For Rick this was a milestone because of his opportunity to work with more than a dozen experts in the field and be a co-editor with Frank Christ and a dear departed friend and well known dev. ed. mentor, Karen Smith.
Areas of Interest
Areas of professional interest for Rick include employee development and training, learning styles, metacognition, team-building, web page development, use, and maintenance, and applications and implications of technology in teaching & learning, and office support. He loves working with colleagues and helping to "de-mystify" technology and make it seem easy to use.
Rick loves the fascinating world of web access and design. You are invited to explore some of the links from his web page. Rick has been the Webmaster for the international Learning Support Centers in Higher Education (Winter Institute) web portal, "LSCHE" since its inception with Frank Christ in 1996. He also serves on the campus web development committee, has helped in the development of a web-based campus wide Automated Planning & Budgeting system, and maintains his department page and the PVCC Organizational Realignment page at the campus. He also teaches a series of web workshops for faculty and staff, and a graduate course through NAU on Computers and the college classroom.
He also writes original, inspirational verses called "Thoughts in Verse." He finds the ocean and sunsets to be very moving. Examples of some of his VerseArt are included in the In Memory... collection linked to his PVCC web page. The collection is the beginning of a tribute to PVCC employees who had become terminally ill or died while working at the college.
"No One of Us is as Smart as All of Us" (Anonymous), is a quote Rick lives by. "To live it means that decisions should be grounded in input and thoughtfulness from all stakeholders (real and potential). The key to success is to build effective communication and synergy in solving problems and providing services."

Rick's Personal Mission: "I want to continue to learn, grow, enjoy, and create; to integrate a part of me into all that I do."
*~*~*~*~*~*~*~*~*
Christ, F.L., Sheets, R. A. and K. Smith (Eds.) (2000) Starting a Learning Assistance Center. Clearwater, FL: H & H Publishing Company, Inc., 109-116.
Rings, S., & Sheets, R. A. (1991). Student development and metacognition: Foundations For tutor training. Journal of Developmental Education. 15(1), 30-32.
Sheets, R. A., & Rings, S. (1989). Ideas in Practice: Tailor-Made Study Strategies: A Success Story. Journal of Developmental Education.12(3), 22-24
Sheets, R. A., (1994). The effects of training and experience on adult peer tutors in community colleges. Doctoral Dissertation, Arizona State University, Tempe, AZ.
*~*~*~*~*~*~*~*~*
Discuss this column with other readers by clicking here.
*~*~*~*~*~*~*~*~*