March 2002 Issue

Internet Resource of the Month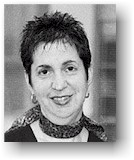 By Susan Marcus Palau
Director, Learning Center, Purchase College/SUNY
Email: Susan.Palau@Purchase.edu
Retro Chic
Montgomery College does it again, even though I am not sure what they did the first time. But this time they have created a most engaging study skills website that is as visually appealing as it is useful. The website is named "The Learning Lounge" and on the home page is a fabulous graphic of a stylized 1950's lounge setting with great colors. This page makes an immediate dynamic statement which entices one to enter further into the site. Amidst this inviting lounge are five links that carry on the wonderful visuals of the home page.
The first link - "About the Learning Lounge" advertises itself as a link to learning and study skills advice to increase students' awareness of academic links to other websites. It also gives the name and contact information of Sharon Pate who heads this endeavor.
The second link - "Seminars" is presently advertising a note taking program entitled "What Your Brain Does While Taking Notes". This workshop is part of a "Learning from Lecture" series and is offered in real time on the Montgomery Campus.
The third link - "Links" quickly connects students to the online study skills pages of Dartmouth College, Virginia Polytechnic Institute, Chemeketa Community College and the Visual Thesaurus. These are all well-developed sites for study strategy information.
The fourth link "Quotes" did not seem to be up but the delightful fifth link, "Fun Facts About Learning" will easily make up for this small disappointment. Again with award-winning graphics, the reader is presented with various screens each containing pithy wisdom regarding learning. Some of the more uplifting reminders are that "learning style is an approach to learning, a set of preferences unrelated to cognitive ability" and "learning is not a spectator sport". Tres vrai!
So kick off your shoes, re-enter the "50"s while getting the most current info on study skills.
http://wwwmc.nhmccd.edu/elc/learning_lounge/
Contact Sharon.Pate@nhmccd.edu.
*~*~*~*~*~*~*~*~*