Monthly publication - March 2001 Issue

*~*~*~*~*~*~*~*~*

We got some more feedback from readers rating the LCN. If you remember we included a ratings card in the January issue and published the results in the February issue. The new feedback is consistent with previous one with readers affirming their interest in the management tips, student study skills, and Internet resources columns. New respondents also told us they appreciate the computer tips column.
In my "Domain Registration" column in the February issue, I mentioned "studyhelp.org" as an example of a domain name you can register. On February 9 someone did register this domain name. This might have been coincidental, but the lesson here is if you have a good domain name in mind for professional or personal use and it is still available, grab it before someone else does.
By the way, no one commented on the "Domain Registration" column last issue. I asked readers to let me know if they liked the column and if they would like to see more tips on creating and running web sites. Since no one seems to be interested in this topic we will not be adding a regular "Web Site Tips" column to the newsletter.
We are pleased to include a book review by Martha Maxwell this issue. Martha publishes her book reviews on LRNASST. I contacted her and she kindly gave us permission to republish some of these reviews in this newsletter.
Do you have a tip you want to share? Contributions to any section of the newsletter are welcomed and encouraged. Please check the Submission Guidelines section below for more info.
All articles in the newsletter are written by volunteers. To spread the word about the LCN, we rely on readers such as yourself. All you need to click on the link below and add the email address of a colleagues who will benefit from this newsletter:

Click here to share this issue with a colleague

Thanks. Enjoy the new issue.

Mon Nasser Editor

*~*~*~*~*~*~*~*~*

By Frank L. Christ
Tip #9:
Getting Involved in Online Teaching/Learning
The window of opportunity is open for learning support center administrators and for learning skills specialists to get involved in online education. Here are five suggestions to consider:
Research your campus to determine how involved in online education it is. Find out what courseware is being used and what courses are being offered. Have lunch with the Instructional Technology or Faculty Development person involved in Online Education.

Enroll in an online course to get an understanding of its potential and limitations. There are many free online courses available. Just type "free online courses" in a search box, sit back, and choose from among the many links (Google/574,000; Northern Light/13,628; Alta Vista/586).

Meet with faculty who are teaching a course and volunteer to be a virtual learning skills specialist attached to his/her course. Read my description of a virtual learning skills specialist by going to the LRNASST archives for August 2000 at: http://listserv.arizona.edu/cgi-bin/wa?A2=ind0008&L=lrnasst&O=A&P=23503

Create either a free online course or supplemental module for a center program or activity using courseware such as Blackboard. Browse http://www.blackboard.com/ for details.

Keep up-to-date on online teaching/learning by getting a free subscription to Syllabus magazine at http://www.syllabus.com/ and by subscribing to http://www.get.educated.com
*~*~*~*~*~*~*~*~*

By Martha Maxwell, Former Director of Student Learning Center, Retired UC Berkeley

Book: Practical Approaches to Using Learning Styles in Higher Education. Author: Rita Stafford Dunn (Editor), Shirley A. Griggs (Editor) Publisher: Bergin & Garvey. Pages: 280. Price: $64.50. Order: Phone: (203) 226-3571 or click here to order from Amazon.com.

You'll find a gold mine of information about how learning and teaching styles that affect college students' performance in this book including a "road map" to help you accommodate students' learning style strengths by comparing the major theories of learning styles, the instruments used to measure them, their research and applications and how to evaluate program effectiveness.

25 authors summarize their experience in using the Dunn Learning Styles Inventory (LSI) (1974-1946A) and the strategies they found useful in accommodating students with diverse learning styles in different institutions and many disciplines including education majors, doctoral students, counselors, psychologists, as well those in business, liberal arts, engineering, health sciences and nursing courses. Yes even distance learning is covered.

The book is designed to assist faculty in becoming knowledgeable about student learning styles and how to accommodate teaching styles to the preferred learning styles
of their students. Of particular interest to learning specialists is the explanation of how to interpret individual learning styles profiles and help students design appropriate study strategies for specific course demands in order to maximize their learning. In other words, teaching them how to teach themselves.

You'll surely find new ways to stretch your teaching styles as well as suggestions to help you and your colleagues in other disciplines learn about and effectively use teaching and learning styles in your teaching.

Based on The Learning Styles Inventory (Dunn, Dunn & Price, 1974-96 A; Dunn, Dunn & Price 1974-1996B) comprised of 21 elements (personal reactions that one concentrates on while learning new and difficult material), grouped in five areas:
reactions to the immediate environment (such as sound versus silence, bright versus soft lighting, etc.

own emotionality; e.g. motivation, persistence. etc.

sociological preferences for learning - e.g., alone, with peers, with either a collegial or authoritative adult, etc.

physiological characteristics ) perceptual strengths such as auditory, visual, tactile or kinesthetic), intake (snaking), time of day energy levels, etc.

global versus analytical processing as demonstrated by correlations among sound, light, design, intake (snacking), sociological preferences, etc.
Typically about 60% of teachers have analytical learning preferences and it may be hard for them to think of other ways to present course information to the 40% of the students who have global learning preferences Many examples of how to structure learning situations to meet different student needs are described so you are sure to find ideas that you can use to help student maximize their learning.
In addition, there are two syllabi from an education course illustrating the differences in teaching the same course to students who have analytic learning preferences and to those with those who have global preferences.
The Appendix contains two bibliographies - one of award winning research on the LSI and second, an annotated bibliography of LSI doctoral dissertations on college students. Numerous studies show students achieve higher grades and have better attitudes toward school when they study under conditions that are congruent rather than incongruent with their learning styles.

I wonder how many FEWER developmental students we would have in college today had their elementary and high school teachers been more knowledgeable about learning preferences and teaching styles and taught them how to adjust their learning strategies to their course demands.

Refs.:

Dunn, R., Dunn, K & Price, (1974-1996A).The Learning Styles Inventory (LSI). Lawrence, KS: Price Systems. (for freshmen and non-traditional college students).

Dunn, R. , Dunn, K. & Price, G. (1974-1996 B), Productivity Environmental Preference Survey. Lawrence, KS: Price Systems. (A form of the LSI for high school students and
working adults.)
*~*~*~*~*~*~*~*~*


| | |
| --- | --- |
| | 8 valuable learning center management strategies & tips. |
| | Profiles of 9 outstanding leaders in the learning-assistance community. |
| | Links to 14 Internet resources of interest to learning center staff. |
| | Information on 6 learning-assistance publications. |
| | Top 9 software picks. |
| | 22 powerful Windows tips. |
| | 3 excellent student study-skills tips. |
| | 10 learning assistance articles. |
| | 15 funnies. |
| | Hundreds of inspirational quotes from famous and wise people. |
| | 11 other entertaining and useful articles? |
The answer is in previous Learning Center Newsletter issues. Visit the Topic Index to quickly find the above articles by clicking on this link:
http://www.attendance-tracking.com/LCN_index.htm
*~*~*~*~*~*~*~*~*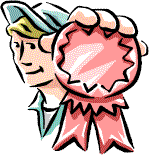 Dr. Jennifer L. Hurd, Academic Resources Coordinator, Student Support Services Assistant Professor, Harding University
You probably know Jennifer from her involvement in the National Tutoring Association (NTA). Jennifer is the NTA President Elect, current vice-president, and this year's conference Program Chair and Awards Chair. She also represented the NTA at other conferences in the past including CRLA in November.
Jennifer's got her Ed.D. in Curriculum and Instruction (Reading) in 1992 from Memphis State University. Her dissertation, An Evaluation of Course Length, Curriculum, and Testing Strategies as Variables in a College Developmental Reading Program, was named runner-up for National Research Award in NADE's 1993 Conference.
Dr. Hurd has had a busy career in education.
In addition to her NTA work, Jennifer has been heavily involved in professional organizations, including:
| | |
| --- | --- |
| | Arkansas Association for Developmental Education: Political Liaison 1997-1999, President 1994-1996, President-Elect 1991-1993, Conference Chair 1993, Presenter 1992, Secretary 1991, Pre-Conference Chair 1991, Presider, Host 1991, Presenter 1991, Exhibitor's Chair 1989, Pre-Conference Co-Chair 1989, Co-Chairman, Research Committee 1989. |
| | National Association for Developmental Education: Conference Co-Chair 1996, Member 1989-present |
| | College Reading and Learning Association: Member 1991-1994 |
| | Southwest Regional Conference of English Teachers in the Two-Year College (SRCE): Arkansas Representative on Advisory Board 1991-1993 |
| | Governor's Task Force for Developmental Education: Member 1988-1994 |
| | National Association of Teacher of English: Member 1992-1994 |
| | ASU-Beebe: Faculty Association President 1993-1994, Vice-President 1992-1993, Chairman of Student Affairs Committee 1990-1991, Secretary-Treasurer 1989-1990, Curriculum Committee Member 1990-1991, Student Evaluations Committee Member 1990-1991, Staff Development Guidelines Committee Chairman 1990-1991, Staff Development Committee English-Fine Arts Representative 1991-1994, Outcomes Assessment Committee Member 1991-1992. |
Jennifer also has a number of publications including Freshman Seminar at ASU-Beebe, Instructor's Manual for College Reading and Learning, 3rd Edition West Publishing Company 1993, Instructor's Manual for Reading Enhancement and Development, 4th Edition West Publishing Company 1992. She also served on the ACCUPLACER Test Development Team College Board 1994-1995
Her recognitions include ArkADE Developmental Educator of the Year in 1996 and 1992, and a nomination for the Excellence in Teaching Award in SRCE Conference.
Our warmest congratulations to Jennifer on her many accomplishments, and thanks for being our March Person of the Month.
*~*~*~*~*~*~*~*~*


NCWCA 2001 Conference
March 3rd, 2001
Rohnert Park, CA
Dr. Muriel S. Harris will be the keynote speaker for the Northern California Writing Centers Association (NCWCA) annual conference. For more info visit:

http://www.sonoma.edu/programs/writingcenter/ncwca2001/
*~*~*~*~*~*~*~*~*
2001 CCCC Convention
March 14-17
Denver, Colorado
For more info on the Conference on College Composition and Communication visiting this web site:
http://www.ncte.org/convention/cccc2001/
*~*~*~*~*~*~*~*~*
NADE National Conference
March 14-18, 2001
Louisville, Kentucky
Each year the National Association for Developmental Education (NADE) offers a national conference that attracts over 1,400 educators from across the U.S. In addition to nationally-known plenary speakers, nearly 200 concurrent sessions provide a comprehensive treatment of developmental education issues.
http://www.geocities.com/Athens/Olympus/7005/index.html
*~*~*~*~*~*~*~*~*
CRLA Mid-Atlantic Regional Conference
March 23rd and 24th
Sweet Briar, Virginia
Conference registration fee is $45 for professionals, $10 for students, and includes 3 meals and a reception. Hosted by Sweet Briar College.
*~*~*~*~*~*~*~*~*
CRLA 2001 Annual PA/NJ Conference
April 5-6, 2001
University of Pennsylvania
A conference for collaboration among student support administrators, learning center and writing center staffs and others to share our expertise ideas and resources, provide research data and trends, discuss new initiatives and best practices. The Keynote Speaker is Dr. Arnold Mitchem, President of the Council for Opportunity in Education.
http://www.geocities.com/crla2001/index.html

*~*~*~*~*~*~*~*~*
NTA 9th Annual Conference
April 22-25, 2001
Indianapolis, Indiana
The National Tutoring Association (NTA) conference provides the latest in tutor information, training, and the opportunity to network with other tutors and administrators. This year's keynote speakers are Dr. Al Gronowsky and Dr. John Chaffee . For more information visit the NTA's web site at:
*~*~*~*~*~*~*~*~*
Let us know about conferences not listed here by emailing lcn@attendance-tracking.com
*~*~*~*~*~*~*~*~*

Sponsor Announcements
If you need to track software usage at your lab, consider AccuTrack Computer Lab edition. Version 4.4 of this software has just been released and has the following capabilities:
| | |
| --- | --- |
| | Tracks and reports on the utilization of each software application, including number of times used and total hours of usage. |
| | Allows students to launch applications, and automatically monitors when these applications are closed. Records both launch time and termination time. |
| | Student can launch more than one application during the sign-in session. |
| | Reports on students visits and the applications used during each visit. |
For a free evaluation of AccuTrack Computer Lab edition, visit this web page:
http://www.attendance-tracking.com/Computer_edition.htm
*~*~*~*~*~*~*~*~*

By Susan Marcus Palau
Director, Learning Center, Purchase College/SUNY
Email: smpalau@aol.com

"Knowledge is of two kinds: we know a subject ourselves, or we know where we can find information upon it."
SamuelJohnson (1709-1784)

The mall of all learning support center websites, Learning Support Centers in Higher Education, or LSCHE, is the perfect virtual place to shop for all your learning center needs. Managed by two well-known experts in the learning center field, Frank Christ (University of AZ) and Rick Sheets (Paradise Valley College, AZ), LSCHE offers a diverse menu of information for both the novice and expert in the field of learning support centers.

The Home Page is not only welcoming but also it clearly spells out all the different departments in this active site. The first listed link, "About Learning Support Center" talks about different titles and definitions for learning support centers. Along with reading a list of the various learning support centers on the web, the interested user can discover that learning centers did not just sprout up yesterday but have a long history at some of the most illustrious colleges and universities in the States. Also at this link, one can read descriptions of model learning centers, a must for administrators who are mandated to start a new center.

The next link "Calendar" makes it easy to schedule one's professional life by listing all relevant national conferences and workshops. It also includes the calendars from The Chronicle of Higher Education and ERIC. Currently, the reader can get the details about fourteen different events from March of this year through January of 2002. Each of the entries has hyperlinks so the user can get further information and registration forms for the conferences.

Moving deeper into the LSCHE website, the reader reaches the richest section – "Resources". This compendium of hyperlinks offers practically any type of information a learning center administrator would want. From scholarly articles under "Articles/Presentations" to employment listings under "Position Descriptions"; from descriptions and links to online and real-time degree programs under "Degree Programs" to suggestions for designing learning support centers under "Equipment, Space & Furnishings", this site is truly the "Bloomingdale's" of LSCHE.

The next three links, "Next WI", "Winter Institute WebBoard" and "Winter Institute Archives" are devoted to describing and encouraging users to learn more about the Winter Institute, a yearly retreat for professionals in the field of learning support. The agenda for WI 2001 that was held this past January is listed along with links to previous Winter Institutes. In addition, in the "Winter Institute Archives" the user can learn about WI's history, philosophy and list of presenters, and see photos from previous annual institutes.

The penultimate link, "Guide to Learning Skills" while still a work in progress, seems to be a true gift for administrators, faculty and students. It promises to provide resources that pertain to learning strategies. It will be divided into two sections, "Self-help Resources for Students" and "Faculty Resources for Student Success". Clearly a link like this, once operable, will offer invaluable riches for the entire learning community.

Finally, we get to the last link, "What's New", a brief page that conveys in a glance, some pertinent events that relate to Learning Support Centers along with their hyperlinks. While compact, it is sure to contain some activity that can most certainly advance one's knowledge and position in the learning center profession. LSCHE can be found on the World Wide Web at http://www.pvc.maricopa.edu/~lsche/welcome.htm

*~*~*~*~*~*~*~*~*

Learning To Learn
Learning to Learn is for learners, teachers, and researchers. It teaches the value of self-awareness as a critical part of learning.

Learning to Learn is a course, a resource, and a source of knowledge about learning, how it can be developed in children and adults, and how it differs among learners.
You will find a ton of material on this site, including modules on Consciousness, Metacognition, Learning Styles, Memory, Language, reading, Writing, Problem Solving, Creativity, and The Biology of Learning. The site also has several discussion lists and a live chat area. If these are not enough, you can browse the Resources section for links to other sites with similar content.
Learning to Learn is produced by the Centre for Academic and Adaptive Technology at the University of Toronto. Use the following link to visit the site:

http://snow.utoronto.ca/Learn2/introll.html
*~*~*~*~*~*~*~*~*

Versaverter
Do you wake up at night wondering how many square inches there are in a hectare or how many grams are in a slug? Now you can find out. This flexible unit-conversion utility offers a modifiable, Web-updatable knowledge base for unit conversions. Simply select the desired units of measurement from the extensive list provided or input your own, then type in the number to convert, and the answer is displayed as you type.
To download Versaverter, visit this web site:
*~*~*~*~*~*~*~*~*

Copying and Moving
As you know, copying in Windows world means making a duplicate in another location while keeping the original, while moving means making a duplicate in another location while deleting the original. You can copy and move files, folders, shortcuts, and even icons on the desktop. Note that when you move a file between locations on the same drive, the file isn't really removed from its location on the hard drive, instead windows simply changes its reference. This is why moving large files between folders is so quick.
There are several methods for copying and moving items in Windows:
1) Regular Drag and Drop: Hold down Shift as you drag and drop an icon to move that item; or hold down Ctrl to copy it.
2) Special Drag and Drop: To move or copy an icon, right-click and drag an icon (or selection of icons) to the desired destination, release the mouse button, and select Move Here, Copy Here, or even Create Shortcut.
3) Keyboard: Select the items and hit Ctrl-C to copy them, or Ctrl-X to move them. Navigate to the new location and press Ctrl-V to paste.
4) Application Menu: If you are in application like Windows explorer, you can do the above with the application menu: Edit-Copy or Edit-Cut to move copy or move, then Edit-Paste. Most applications even have buttons to the tool bar for these actions.
5) Right Click Menu: In most situations you can select an item and click on it with the RIGHT mouse button. A pop-up menu will show up, and you'll be able to select "Copy" or "Cut" from it. Right click on another area and select paste to copy or move the item.
By the way, if you are using method 1 above and forgot whether the shift key copies or moves the item, pay close attention to the mouse cursor. If you see a small box with a plus sign, then you are copying the item, other wise you are moving it.
*~*~*~*~*~*~*~*~*

Vertical Highlight
Ever had a need to delete the first letter, word, or words from the begging of each line in a section of a document? For example, let's say you copied an article from an email message, but this article was forwarded several time, and each line begins with the ">>>" characters. Of course you can move the cursor to the beginning of each line and press delete several times to delete the annoying characters. However, there is a much quicker way: highlight these extra characters and simply hit the "Delete" key! How do you highlight characters vertically? Simply hold the ALT key down and use the mouse to move down vertically and highlight the extra characters. When all the lines are highlighted, click on "Delete" and you're done.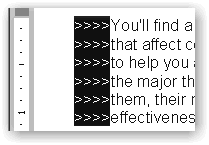 Example of vertical selection in MS Word
*~*~*~*~*~*~*~*~*

By Erma Bombeck (Written after she found out she had a terminal disease.)
I would have gone to bed when I was sick instead of pretending the earth would go into a holding pattern if I weren't there for the day.
I would have burned the pink candle sculpted like a rose before it melted in storage.
I would have talked less and listened more.
I would have invited friends over to dinner even if the carpet was stained, or the sofa faded.
I would have eaten the popcorn in the 'good' living room and worried much less about the dirt when someone wanted to light a fire in the fireplace.
I would have taken the time to listen to my grandfather ramble about his youth.
I would have shared more of the responsibility carried by my husband.
I would never have insisted the car windows be rolled up on a summer day because my hair had just been teased and sprayed.
I would have sat on the lawn with my children and not worried about grass stains.
I would have cried and laughed less while watching television - and more while watching life.
I would never have bought anything just because it was practical, wouldn't show soil, or was guaranteed to last a lifetime.
Instead of wishing away nine months of pregnancy, I'd have cherished every moment and realized that the wonderment growing inside me was the only chance in life to assist God in a miracle.
When my kids kissed me impetuously, I would never have said, "Later. Now go get washed up for dinner."
There would have been more "I love you's.". More "I'm sorry's."
But mostly, given another shot at life, I would seize every minute ... look at it and really see it ... live it ... and never give it back.
Don't forget to stop and smell the roses today! Take time to tell a loved one how much you love them, do something nice for yourself, and stop to give God thanks for all of it.
*~*~*~*~*~*~*~*~*
For more Erma Bombeck quotes and links, visit:

Who I Am
It was the final examination for an introductory English course at the local university. The examination was two hours long, and exam booklets were provided. The professor was very strict and told the class that any exam that was not on his desk in exactly two hours would not be accepted and the student would fail. A half hour into the exam, a student came rushing in and asked the professor for an exam booklet.
"You're not going to have time to finish this," the professor stated sarcastically as he handed the student a booklet.
"Yes I will," replied the student. He then took a seat and began writing. After two hours, the professor called for the exams, and the students filed up and handed them in. All except the late student, who continued writing. A half hour later, the last student came up to the professor who was sitting at his desk preparing for his next class. He attempted to put his exam on the stack of exam booklets already there.
"No you don't, I'm not going to accept that. It's late." The student looked incredulous and angry.
"Do you know WHO I am?"
"No, as a matter of fact I don't," replied the professor.
"DO YOU KNOW WHO I AM?" the student asked again.
"No, and I don't care." replied the professor sarcastically.
"Good," replied the student, who quickly lifted the stack of completed exams, stuffed his in the middle, and walked out of the room.
*~*~*~*~*~*~*~*~*


"Use what talents you possess. The woods would be very silent if no birds sang there except those that sang best."
Henry VanDyke
*~*~*~*~*~*~*~*~*
"We must believe that we are gifted for something, and that this thing, at whatever cost, must be attained."
Madame Curie
*~*~*~*~*~*~*~*~*
"Making the simple complicated is commonplace; making the complicated simple, awesomely simple, that's creativity."
Charles Mingus
*~*~*~*~*~*~*~*~*
"Many of life's failures are people who did not realize how close they were to success when they gave up."
Thomas Edison.
*~*~*~*~*~*~*~*~*
"There is nothing stronger in the world than gentleness."-
Han Suyin
*~*~*~*~*~*~*~*~*
"There is nothing so useless as doing efficiently that which should not be done at all."

Peter F. Drucker
*~*~*~*~*~*~*~*~*
"Education is what survives when what has been learnt has been forgotten."
B.F. Skinner.
*~*~*~*~*~*~*~*~*
"It is amazing what you can accomplish if you do not care who gets the credit." -
Harry S. Truman.
*~*~*~*~*~*~*~*~*

The February issue of the Learning Center Newsletter featured:
| | |
| --- | --- |
| | A management tip from Frank Christ on having a web site for your center. |
| | A student study skills tip from Lucy MacDonald on dealing with students during exam times. |
| | Winners of the First Annual Learning Center Awards. |
| | Instructions for life in the new millennium from the Dalai Lama. |
| | How to register your own domain name (e.g. www.mikesmith.com) for only $15. |
| | Plumb Design Visual Thesaurus. |
| | A free and very popular on-line communication utility. |
| | Hidden Windows utilities. |
| | A Word Tip on inserting comments in documents. |
| | Top 15 best things to say if you get caught sleeping at your desk. |
| | And more. |
To view the February issue, click here.
*~*~*~*~*~*~*~*~*

Get involved in the learning-assistance community via The Learning Center Newsletter by:
| | |
| --- | --- |
| | Submitting articles of interest to learning-assistance professionals. |
| | Reviewing books and other learning-assistance resources. |
| | Informing us about conferences and other happenings. |
| | Nominating your favorite learning center professional for the Person of the Month corner. |
| | Sharing resource information with your peers: web sites, publications, etc. |
The average article length is one page written in 12 points size and single line spacing. If the article is long, we might put it in a separate page and show the first few paragraphs in the newsletter with a link to the full article. Send your articles in ASCII text or MS Word format. We will take care of the html conversion. If you want to include images with the article, the preferred format is jpg or gif, but we will convert images in other formats if needed.
The newsletter is usually released during the first week of each month. The deadline for each issue is the 25th of the previous month, so if you would like to submit an article for the next issue, we need to receive it by the 25th of this month. By submitting articles, you give us the right to publish and edit them if needed.
The subject of submitted articles must be of interest to learning-assistance professionals. The editor of this newsletter reserves the right to reject articles at his discretion.
Submitting your article will make you more famous and will help your colleagues worldwide! E-mail your submissions to:
newsletter@attendance-tracking.com
*~*~*~*~*~*~*~*~*


We certainly hope you find this newsletter useful and entertaining. We welcome your suggestions and improvements ideas. To send in your comments, simply click here.
*~*~*~*~*~*~*~*~*

This newsletter is sponsored by AccuTrack and edited by Mon Nasser from Engineerica Systems, Inc. My thanks to this month's contributors: Frank Christ, Lucy MacDonald, Martha Maxwell, and Susan Marcus Palau.
*~*~*~*~*~*~*~*~*

Subscription to The Learning Center Newsletter is free for learning-assistance professionals. To subscribe simply fill-in the quick subscription form at this web site:
http://www.attendance-tracking.com/join_lcn.htm
Only those who subscribe to The Learning Center Newsletter receive notifications of new issues . If you wish to unsubscribe, e-mail to:
unsubscribe@attendance-tracking.com
Note that the process of tracking members and emailing them is currently handled by humans. If there is an error in your subscription, please email us.

Click here to send this issue to a friend

*~*~*~*~*~*~*~*~*