Windows XP, should you upgrade?
In October the long awaited and highly hyped Windows XP was launched. This was the first time I was eagerly waiting for the release of a Windows product. I had read many positive reviews about the latest OS from Microsoft, and also wanted to get rid of my ailing Windows ME system.
But first some background. About a year ago I upgraded my computer from Windows 98 to ME (Millennium Edition). That turned out to be a mistake. ME seemed to be something Microsoft (MS) came up with only to generate more sales. Before making the upgrade I read that ME was "Windows 98 + all the fix packs". Unfortunately I found out later that it would be more accurate to add to that "minus many advanced features". ME seems to have been created for the novice user as it didn't provide much control over its environment. In addition, ME was not very stable and locks ups were a daily event.
One solution to the ME problem was Windows 2000. As you might know, 2000 was the successor to Windows NT, a decent operating system known for its stability and maturity. MS marketed Windows NT / 2000 as the "business" operating system, while Windows 95/98/ME were marketed as the "home user" operating systems. Since my home user option sucked, my next option was Windows 2000. However, 2000 did not support as many hardware options as 98 did and was a relatively expensive upgrade ($200 vs $90 for ME).
With Windows XP, Microsoft is now offering the same engine for its home and business markets. XP is based on the Windows NT / 2000 core, so it inherits 2000's stability. XP also has a wider range of driver and hardware support than 2000. Add to that a slew of new features, and you have one great operating system at the bargain upgrade price of only $99 for the home edition. MS also offers a more expensive flavor of XP called the "Professional" version, but this has advanced features that I doubt any average user will need.
So what do I like about XP? Most important is the stable 32-bit kernel. MS tests show that XP can run for weeks without needing a single reboot. While the 98 OS could hardly last 3 days. XP is also faster than its predecessors. The boot up process is much faster than NT's /2000 and even faster than Windows 98!
Another positive is a revamped user interface. The icons and borders have a much nicer and vibrant look, and the task bar groups related items together. For example, if you launch several instances of your browser, they will all be grouped under the same button instead of a separate button for each instance. For example, the screen shot below shows 3 instances of IE. This provides for a neater interface and if you like, you can right click on the button and select "Close group".

The Start menu now has two columns. XP automatically places your mostly used applications on the left column for easier access. For all other applications, use the green "All programs" button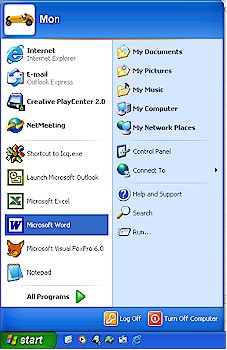 If you don't like the new interface, you can easily switch back to the "Classical" Windows look. However, give the new interface some time to get use to and you probably will stick with it.
Windows XP includes some new "bundled software" as well. For example, the OS comes with a firewall application to protect you from hackers. Another integrated feature is the Windows Messenger (formerly known as MS Instant Messenger). NetMeeting, Microsoft's video conferencing tool, is also included. So is Internet Explorer 6.0. Other software include an impressive media player with a plethora of dazzling graphical effects. The new operating system also has built-in support for burning CD discs (if you have a CDR drive of course).
Another neat feature of XP is its support for multiple users. Each user can have his or her own separate preferences and looks. Switching from one user to another is easy.
So what about the negative things? For starter, not all hardware drivers necessary for XP operation are ready yet. For example, after upgrading, my Toshiba DVD drive stopped playing DVD discs. I discovered this was because my graphics card, the popular "ATI Radeon" does not have a DVD player for XP yet! ATI promised releasing the appropriate software soon, but the new player was still not available as of this writing.
Another thing I don't like about XP is the new anti-piracy "activation" policy. When you install XP, you have 30 days to activate it. If the 30 days pass and you have not activated your copy, XP will expire and cease to work. Activation involves sending MS an installation ID that is unique to your hardware and Windows activation key (the number you get from the orange sticker on Windows box). After sending the installation ID, MS will give you a "confirmation ID" that unlocks Windows. The installation ID is 50 digits long and the confirmation ID is 42! You can activate via phone or the Internet. When I tried the phone option, a machine asked me to enter the 50-digit ID number on the key pad. Of course I missed entering a number or more because it didn't work! The machine then transferred my call to customer support. I read the long number to the representative and she replied with the confirmation number. This time it worked.
Since the installation ID and corresponding confirmation ID are unique to your hardware, they will not work on other computers. This means you cannot buy one license of Windows and install it on both your home PC and office PC. If you replace your computer, your XP activation key will not work on the replacement PC. Even worse, since the activation key depends on your hardware, upgrading this hardware might mean you will need a new activation key! This means you have to somehow contact MS and explain why you are trying to install the same Windows license on "different" hardware.
Another irritating thing about XP is the way MS tries to push its other products on you. For example, my old OS had a shortcut to ICQ in the taskbar. When I upgraded to XP, this was replaced by Windows own Messenger! On the old Windows, I used a firewall program called ZoneAlarm. When XP started it told me that my version of ZoneAlarm has known 'incompatibilities" with XP, and advised not to use it. My solution was to visit ZoneAlarm's web site and download the latest version. Upon first boot up, XP also advised me to sign up for Microsoft's Passport service and made it look like a "must-have". Also when I first launched the upgraded IE software, it asked me if I wanted to make Microsoft's MSN site as my start up page. I answered "no" to keep my original start up site.
So what's the final call? If you're still using Windows 95/98/or ME, I would recommend upgrading to XP. But before you do that, check with your hardware manufacturers to make sure they have released the necessary XP drivers. Also check to make sure your that your current applications are compatible with XP. If you're running Windows 2000, you already have a stable operating system and might want to wait a little on the upgrade.
*~*~*~*~*~*~*~*~*
Click here to go back to the December issue.