The Learning Center Newsletter
Monthly publication - May 2000 Issue
Sponsored by AccuTrack

*~*~*~*~*~*~*~*~*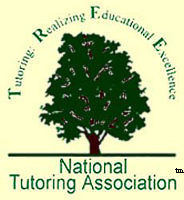 The eighth annual National Tutoring Association (NTA) conference was held April 9-12 in San Antonio, Texas. The conference offered over forty sessions on a variety of topics including tutor certification and training, managing learning centers, using Internet tools, measuring tutoring effectiveness, and tutoring ESL students and athletes.
The conference featured excellent speakers. Dr. Al Granowsky delivered Monday's keynote address. The audience was roaring with laughter as Dr. Granowsky taught us how to be "gracious" and encouraged everyone to remove the bad labels and look at the positive aspects of any situation. On Tuesday the speaker was Dr. Gregory Sawyer, who left the audience with tears in their eyes as he explained how he was finally able to "take up the gauntlet".
During the conference the board revealed some exciting news about the NTA, including the new "Journal of the National Tutoring Association", NTA tutor certification, NTA scholarships, the NTA newsletter, and the opening of the first state chapter in Georgia. As a result of the hard work of the board and their accomplishments, the organization recently achieved a record number of members.
The NTA board was kind enough to give Mon Nasser, AccuTrack manager, a gift and an honorary membership in the NTA in recognition of his support of the organization. We were also proud to see one of AccuTrack's customers, the Assistance Centers for Education (ACE) at Albuquerque TVI winning the NTA David Rheinhemier Award for Outstanding Program. Congratulations to ACE, all the other award recipients, and all those who attended this outstanding gathering of tutoring professionals.
The next NTA conference will be held in Indianapolis, Indiana. For more info about the NTA visit its web site at:
http://www.ntatutor.org/home_page.htm
*~*~*~*~*~*~*~*~*

By Maureen Connolly, Elmurst College

Many of us like to add a little glamour to web pages, handouts, flyers, and so forth by incorporating clip art. Also, we are always trying to attract students to learning center activities and services; clip art is often the "eye catcher" or the attention grabber. Sometimes, however, it is difficult to find educationally appropriate items. For a solution to this dilemma, check out the following sites.
Hoxie High School:
http://www.hoxie.org/clipart/clip00.htm
This sixty-page site has something for everyone including animation, borders, and letter styles. Whether you'd like a "Linus Graduate", a welcome sign, or a calculator image, you'll probably find it here.
*~*~
IBAND
http://www.iband.com/clip4/zwritedir.htm
If you're looking for clip art suitable for writing activities, you will find this site. Very helpful. Categories include notebooks and papers, pens, pencils.
*~*~
Graduation Clip Art
http://pobox.upenn.edu/~walker/grad.html
Numerous color images of graduation symbols including caps and figures clothed in cap and gown are at this site.
*~*~
ESL Clip Art
http://www.sla.purdue.edu/fll/JapanProj/FLClipart
This site is divided into verbs, adjectives, and nouns. Words are illustrated by characters acting out the meaning of the word. The "dance" character is particularly cute!
*~*~*~*~*~*~*~*~*


LSCHE
The Learning Support Centers in Higher Education (LSCHE) is the only web site dedicated exclusively to Learning Support Centers in Higher Education. Use this site to review the history of learning support centers along with relevant definitions of learning assistance. The site also has a calendar of conferences, a list of professional development courses and degrees, links to related professional association web sites and listservs, and other resources of interest to support center directors and their staff.
LSCHE is a joint venture of Paradise Valley Community College, Dr. Rick Sheets as its webmaster; and the University of Arizona, with Frank Christ as editor and consultant.
You can find LSCHE at this web site:
http://www.pvc.maricopa.edu/~lsche/
*~*~*~*~*~*~*~*~*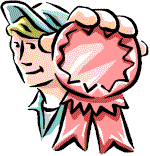 Frank L Christ, Visiting Scholar, U of AZ
Frank has been actively involved with learning assistance for over 25 years. Perhaps you know Frank as the creator, co-director, and coordinator of the highly successful Winter Institute. But do you know that he was the founder and past coordinator (1972-1990) of the award-winning Learning Assistance Support System at CSU Long Beach. He is also the author of the Survey of Reading and Study Efficiency (SRSE) II - a computer-based diagnostic and prescriptive study skills survey, six study skills textbooks, and many articles on learning assistance, study skills, and technology as it impacts on teaching and student learning.
You can find four of Frank's booklet at H&H Publishing: Memory Power for Facts and Concepts, Writing a Term Paper - Step-by-Step (co-authored with Bonnie Lane Helberg), Seven Steps to Better Management of Your Study Time, and College Success - The First Week and Beyond. Also available from H&H Publishing is the CRLA Monograph, Starting Up A Learning Assistance Center, which was co-edited by Frank Christ.

Frank is the past president of CRLA (College Reading and Learning Association). His editorial contributions include guest editor and contributor to the Jossey-Bass New Directions for Learning Assistance series (1981) and founding columnist (1981-87) of the Journal of Developmental Education "Techtalk" Series. He is also the author and designer of LINDEX, an electronic database and information system for learning assistance and developmental education professionals.
Frank's other accomplishments include establishing LRNASST, the Learning Assistance Professionals List server, and serving as an editor and consultant for LSCHE. He also served as a faculty with the Kellogg Institute for the Training and Certification of Developmental Educators.
Our warmest congratulations to Frank on his impressive record and continued contributions to the learning assistance community.

*~*~*~*~*~*~*~*~*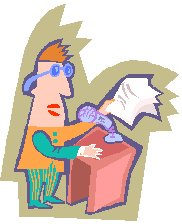 CWC 2000 Conference
May 25-28, 2000
Fort Worth, Texas
The Computers and Writing Conference (CWC) is an annual, national conference focusing on the use of computer technology to facilitate the teaching and learning of writing specifically, but language arts in a broader sense. For more information visit the conference site at:
http://www.eaze.net/~jfbarber/cw2k/entranceframeset.html
*~*~*~*~*~*~*~*~*
Noel-Levitz National Conference on Student Retention
July 12-15, 2000
Washington, DC.
Nearly 1,000 representatives from over 800 colleges and universities attended last year's conference. This year the conference offers more than 100 workshops in five tracks. Identify the latest strategies for retention success, and review successful practices for recruitment and financial aid.
http://www.noellevitz.com/wkshp/conf/ncsr2000/index.html
*~*~*~*~*~*~*~*~*
NCLCA Fifteenth Annual Conference
October 4-6, 2000
Minneapolis, Minnesota
The National College Learning Center Association (NCLCA), founded in 1985, is a
professional organization dedicated to promoting excellence among learning assistance professionals. The association has membership throughout the United States and Canada, and welcomes anyone interested in assisting college and university students along the road to academic success.
The Featured Speakers of this year's conference, "Guiding Success: Learning Center Strategies for a New Age", are Martha Casazza & Sharon Silverman.
For more information browse this web site:
http://www.eiu.edu/~lrnasst/nclca/
*~*~*~*~*~*~*~*~*
NWCA 5th National Conference
November 2-4, 2000
Baltimore, MD
The National Writing Centers Association (NWCA) conference's goal is to provide a setting where all those who work in writing centers can exchange ideas and information. For more information visit the conference web site at:
http://www.english.udel.edu/wc/mawca/nwcacon.html
*~*~*~*~*~*~*~*~*
CRLA 33rd Annual Conference
November 8-11, 20000
Reno, Nevada
The College Reading and Learning Association (CRLA) conference, "Research, Practice, Reflection for a new generation" key note speaker is Gary Soto. Luncheon Speaker-Robert Sherfield.
http://www.crla.net/2000_Conference.htm

*~*~*~*~*~*~*~*~*

Using the Character Map
The Windows Character Map can be a very handy tool for adding special characters to your documents. Whether you need accented letters for words like "résumé", math symbols for your document, or cool bullets or symbols, the Character Map has it all.
To access the Character Map, select Start-Programs-Accessories-System Tools-Character Map. You will notice a drop-down list box at the top left side of the box labeled "Font:". Use this drop-down to select the font you want to view. For example, you'll find accented letters in most fonts, Greek letters in the font 'Symbol', and many cool character icons and bullets in the "Windings" font.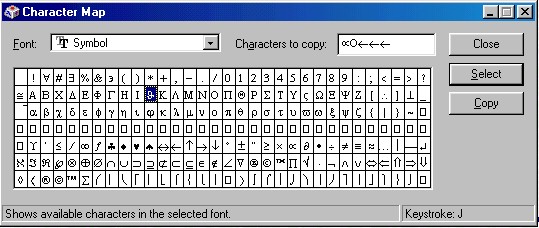 If you're having trouble seeing the characters because of their small size, you can get a magnified view by simply clicking once on the character. If you click once, keep the mouse button down, and move the mouse across, you will see other characters in the magnified view as well.
To copy a character to your document, double click on it. The character will be added to the "Characters to copy:" text box at the top right side. When you're done selecting characters, click on the "Copy" button. Now switch to your document and place the cursor where you want the character(s) to appear, and paste the characters. You can use the keyboard shortcut Ctrl-v to paste the characters in most applications.

If you have a certain character that you use often, you can use a shortcut that bypasses the selection process from the Character Map. All you need is to make sure your Num Lock key is turned on, press your "Alt" key down and keep it down while you type in the 4 digits keystrokes of that character on your numeric keypad. How do you know the 4 digits keystroke representing the character? When you are using the Character Map, you will notice the word "Keystroke:" followed by these 4 digits (e.g. Alt+0172) at the bottom right corner of the box. The digits change with the character selected. Simply select your character to check its 4 digit numbers. Of course you need to be using the correct font for this character when you apply the shortcut.
*~*~*~*~*~*~*~*~*
Right Clicking without a mouse!
If you need to right click on an object (folder, button, etc.), and don't want to bother reaching for that mouse, make sure that item is selected, hold down the Shift key and press F10. The mouse right click menu will pop up. Now you can use your arrow keys to move up or down, the "Enter" key to make a selection, or the "Esc" key to cancel. All without your mouse!
*~*~*~*~*~*~*~*~*
Renaming Files
If you need to rename a file, folder, or shortcut, you can do it in one of three ways:
Regular way: Right-click on the file and select Rename.

Faster way with the mouse: Click on the file twice (don't do this fast or it will count as a double click and the file will be launched).

Faster way with the keyboard: Assuming the item is already selected, simply press F2 on your keyboard.
*~*~*~*~*~*~*~*~*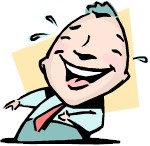 THE SEAMAN AND THE PIRATE
An able-bodied seaman meets a pirate in a bar, and they take turns recounting their adventures at sea. Noting the pirate's peg-leg, hook, and eye patch the seaman asks "So, how did you end up with the peg-leg?"
The pirate replies "We was caught in a monster storm off the cape and a giant wave swept me overboard. Just as they were pullin' me out, a school of sharks appeared and one of 'em bit me leg off".
"Blimey!" said the seaman. "What about the hook"?
"Ahhhh...", mused the pirate, "We were boardin' a trader ship, pistols blastin' and swords swingin' this way and that. In the fracas me hand got chopped off."
"Zounds!" remarked the seaman. "And how came ye by the eye patch"?
"A seagull droppin' fell into me eye", answered the pirate.
"You lost your eye to a seagull dropping?" the sailor asked incredulously.
"Well..." said the pirate, "..it was me first day with the hook."
*~*~*~*~*~*~*~*~*


A good education is not so much one which prepares a man to succeed in the world, as one which enables him to sustain failure.
Bernard Iddings Bell
*~*~*~*~*~*~*~*~*
What all great teachers appear to have in common is love of their subject, an obvious satisfaction in arousing this love in their students, and an ability to convince them that what they are being taught is deadly serious.
Joseph Epstein
*~*~*~*~*~*~*~*~*
Wish not so much to live long, as to live well.
Benjamin Franklin
*~*~*~*~*~*~*~*~*
"Trifles make perfection, and perfection is no trifle."
Michelangelo
*~*~*~*~*~*~*~*~*
The only things worth learning are the things you learn after you know it all.
Harry S. Truman
*~*~*~*~*~*~*~*~*
The less one has to do, the less time one finds to do it in.
Lord Chesterfield
*~*~*~*~*~*~*~*~*
Well begun is half done.
Aristotle
*~*~*~*~*~*~*~*~*
Courage is resistance to fear, mastery of fear, not absence of fear.
Mark Twain
*~*~*~*~*~*~*~*~*

Get involved in The Learning Center Newsletter by:
| | |
| --- | --- |
| | Nominating your favorite learning center professional for the Person of the Month corner. |
| | Submitting articles of interest to learning centers staff. |
| | Informing us about conferences and other happenings. |
| | Sharing resource information with your peers (web sites, publications, etc.) |
Submitting your article will make you more famous and will help your colleagues worldwide! E-mail your submissions to:
newsletter@attendance-tracking.com
*~*~*~*~*~*~*~*~*


We certainly hope you find this newsletter useful and entertaining. We welcome your suggestions and improvements ideas. Also if you enjoy reading this newsletter, let us know. We would like to hear from you, so e-mail us your feedback by clicking here.
*~*~*~*~*~*~*~*~*

This newsletter is produced by Mon Nasser from Engineerica Systems, Inc. My thanks to Maureen Connolly for contributing to this issue, and to Frank Christ, our Person of the Month.
*~*~*~*~*~*~*~*~*

The April issue of the Learning Center Newsletter featured:
| | |
| --- | --- |
| | Technology Institute for Developmental Educators. |
| | The CRLA Monograph: Starting Up A Learning Assistance Center. |
| | The National Writing Centers Association (NWCA) home page. |
| | April's Person of the Month. |
| | The Journal of College Reading and Learning. |
| | Windows Explorer tips and tricks. |
| | Quotes by Mark Twain, Honda, Frank Outlaw and others. |
To read the April issue, click here.
*~*~*~*~*~*~*~*~*

Subscription to The Learning Center Newsletter is free for learning centers professionals. To subscribe simply fill-in the quick subscription form at this web site:
http://www.attendance-tracking.com/learning_center_newsletter.htm
Only those who subscribe to The Learning Center Newsletter receive an e-mail notification when a new issue is released. If you wish to unsubscribe, e-mail to:
unsubscribe@attendance-tracking.com
Please tell your peers about this newsletter by forwarding its web address to them.
http://www.attendance-tracking.com/Newsletter/May00.htm
*~*~*~*~*~*~*~*~*