The Learning Center Newsletter
Monthly publication - February 2000 Issue
Sponsored by AccuTrack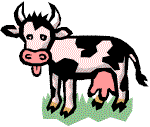 When I am asked to address a class about peer tutoring, I take a visual aid with me. I have a crude picture of a cow that is very effective in demonstrating how it feels to be completely lost in the classroom. The picture is so poor that students have a difficult time even figuring out how to hold the paper. I let them struggle with that for a while, and then I tell them which way to hold the paper. The students force themselves to try to see something on the page, and I pressure them by asking them if they see an image yet. Eventually, I tell them they are looking at a cow. With that hint, some of the students are able to see the image of a cow while others are still unable to see it. I give another hint telling students the position of the cow and how to pick out the eyes, nose and ears. Several students will see the image, but those who don't are reluctant to admit that they still don't see it. Finally, I use a transparency and show the outline of the cow. I explain to the students that this is how it feels to be sitting in class when the instructor explains something to the class, and everyone else "sees" what the instructor is explaining, and you do not. I explain that this is the role of the peer tutor. The tutor is not there to teach the students or to do the work for them, but by giving a different perspective on the lesson or showing the tutee how they were able to "see" what the instructor was saying, they can help students learn. The students enjoy the demonstration, and the memory of that moment when they "see" the cow sticks with them.
[If you're curious and want to see the image Sue uses in her presentation, click here.]
Sue Knight, Coordinator of Tutorial Services
Alfred State College


LRNASST, Open Forum for Learning Assistance Professionals
LRNASST is a listserve - an automated mailing list in which messages from any subscriber goes to all subscribers. This creates an environment for exchanging ideas and expertise among people with a common interest. Listserves promote collaboration with distant colleagues and distribute news quickly through the academic community.
The "LRNASST," was started in 1994 at the University of Arizona's Winter Institute for Learning Assistance Professionals. Currently, there are over 1,100 subscribers to the list. Discussions include questions, answers, problems, solutions and even positions available announcements.
To subscribe to this forum, or to view and search the archives of LRNASST on line (January 1995 to present), visit this web site:
http://listserv.arizona.edu/lsv/www/lrnasst.html

2000 National NADE Conference
"Meeting the Challenges and Serving as a Beacon for the 21st Century"

March 15-19, 2000 in Biloxi, Mississippi.

Each year NADE offers a national conference that attracts over 1,400 educators from across the U.S. In addition to nationally-known plenary speakers, nearly 200 concurrent sessions provide a comprehensive treatment of developmental education issues. These conferences are open to anyone. This year's conference will be March 15-19 in Biloxi, Mississippi. For detailed information visit the conference web site at:

http://www.umkc.edu/cad/nade/conferen/biloxi.htm

or e-mail:

*~*~*~*~*~*~*~*~*

The Twenty-third Annual Symposium on Developmental Education

New York College Learning Skills Association (NYCLSA)

March 26-28, 2000

Ellenville, New York

This year's symposium will focus on what teaching strategies, learning assistance models, and professional leadership will be needed for the new century. Keynote speakers include Dr. Hunter Boylan, Director of the National Center for Developmental Education and Dr. Susan Clark-Thayer, editor of the NADE self-evaluation guides. For more information visit the conference site at:

http://www.rit.edu/~jwsldc/NYCLSA/conf/index.html

or contact the conference chairperson, Jane Neuburger at (315) 655-7206 or E-mail:

*~*~*~*~*~*~*~*~*

NTA Conference: Frontiers in Tutoring

National Tutoring Association (NTA)

April 9-12, 2000

San Antonio, Texas

The NTA conference provides the latest in tutor information, training, and the opportunity to network with other tutors and administrators. This year's keynote speaker is Dr. Al Gronowsky. For more information contact the Program Chair and Vice-President of NTA, Dr. Jennifer Hurd at (501) 279-4101 or e-mail:

or visit the NTA web site at: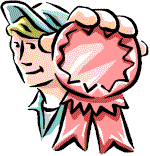 Muriel Harris, Professor of English and Director of the Writing Lab at Purdue
Muriel Harris got her Ph.D. in English from Columbia University in 1972, and has been with Purdue's writing lab since 1976 when it first started. She is the originator and editor of the Writing Lab Newsletter (1977-present). The newsletter is a publication of the National Writing Centers Association and an affiliate publication of the National Council of Teachers of English.
Dr. Harris' vast majority of publications are about writing center theory, pedagogy, and practice. She also wrote the Prentice Hall Reference Guide to Grammar and Usage.
Dr. Harris latest honors include the CCCC 2000 Exemplar Award. (CCCC= Conference on College Composition and Communication, the national conference for college teachers of writing). According to the CCCC, this award is presented to a person who serves as an exemplar for CCCC members and represents the highest ideals of scholarship, teaching, and service to the entire profession.
Muriel is quite proud of the OWL (Online Writing Lab), which gotten numerous awards, gets about 2-3 million hits/year, and has quantity of instructional materials and resume stuff that everyone are welcome to use. The site's address is:
And last year, she was inducted into the Purdue University Teaching Academy.
On a personal level, Dr. Harris and her family are waiting for their second grandchild, which is due this month. Congratulations Muriel and thanks for your continued contributions.


The Writing Lab Newsletter

The Writing Lab Newsletter is a monthly publication (Sept. to June) for anyone involved in one-to-one tutoring of writing. There are articles about various writing center programs, about tutor training, administrative issues, publicity, pedagogy, online tutoring, and so on, plus reviews of new books, conference announcements, and a Tutors' Column by and for tutors. For a one year subscription (10 issues), send $15 check payable to Purdue University to:

Muriel Harris,editor

Writing Lab Newsletter

Dept. of English

Purdue University

West Lafayette, IN 47907-1356

The Writing Lab Newsletter has one thousand subscribers, including people in Europe, Asia, and South America. For information about subscribing, or purchasing back issues or sample copies, you can contact the newsletter's assistant editor, Mary Jo Turley by email at mjturley@purdue.edu or by phone (765) 494-7268. You can also get detailed information on the web by visiting this site:

http://owl.english.purdue.edu/Files/newsletter.html

Toggling Window State
This tip actually worked on Windows 3.1, and still works on Windows 95 and 98. If you want to toggle your window between full screen and window view, simply double-click on the title bar at the top of your open window. There is no need to bother with the little buttons in the top right corner.
*~*~*~*~*~*~*~*~*
Getting to your Desktop in a Hurry
If you're like me, you probably have many applications open at the same time (your e-mail client, web browser, word processor, etc.) What happens if you need to get back to your desktop with all these open windows? Instead of having to minimize all of them one by one, all you need to do is click on an empty area of your task bar with the RIGHT mouse button, then click on "Minimize all Windows" in the pop-up list. Want to make this more magical and surprise your colleagues, use the keyboard shortcut: Windows-M to minimize all open windows (The Windows key is the one with the window icon between the Ctrl and Alt keys.) To undo this command, use Shift-Windows-M. Go ahead and try it now!
*~*~*~*~*~*~*~*~*
Keyboard Shortcuts
The mouse is nice, but sometimes it's just faster to use the keyboard – if you know the right combination. Here are some examples:
| | |
| --- | --- |
| | To close the active window, use ALT-F4. |
| | To switch among open windows icons and select one, use Alt-Tab to go forward, or Alt-Shift-Tab to go backwards. |
| | To switch among open windows directly, use Alt-Esc to go forward, or Alt-Shift-Esc to go backwards. |
| | To display the Start menu, use Ctrl-Esc: |
| | To select an item from the menu, use Alt and the underlined letter in the menu item. For example, Alt-F for file, Alt-E for edit. |
| | To start Windows Explorer, simply use the Windows-E |
| | To cycle through the Taskbar buttons, use Windows-Tab |
| | To open Windows help, use Windows-F1 |
| | To minimize all open windows, use Windows-M as mentioned in the tip above. |
In the next issue we will present other tips for quickly finding files and using the System Properties dialog box.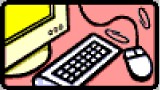 If you're sending and receiving files through e-mail, you need to have a file compression software or an "zip" utility. Do not confuse this with the "Zip Drive", which is an external storage unit. The zip utility is actually a software program. Having this software is essential for many reasons:
Zip files are an Internet standard. If you have not gotten a zipped file already, you will get one soon!

Compressed files are smaller in size, so they take less time to send and receive.

If you have a bunch of files to send and you zip them up, you only need to send one file (the zipped file). The recipient also will receive and handle one file as an attachment. Compare this with having to attach several files at your end and then the recipient having to save all these attachment one by one.

If you download files from the Internet, they will most probably be archived (zipped).
There are many flavors of zip files out there. In the DOS days, the most common program was PkZip, which you ran from your DOS command prompt. However, the old PkZip did not support the Windows 95 "long name" feature, so more modern versions surfaced. The one I use is called WinZip. I like this program for a couple of reasons:
| | |
| --- | --- |
| | It's easy to use. After you install, you can zip a file from Windows Explorer by clicking on it with the RIGHT mouse button and selecting "Add to Zip". If you want to zip a bunch of files, simply select them all, or the whole directory they are in, and RIGHT click to zip. To unzip a file, simply double click on it. You can then view or run the files inside it right from the WinZip window, or if you prefer, unzip them to your hard drive. |
| | It's shareware. You can download a copy and install it on your PC to try out for as long as you like. The software does not expire! Of course when you are convinced of its value, the descent thing to do is to register it by paying the $29 registration fee. |
To download WinZip, visit this web site: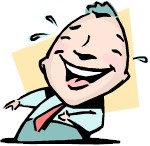 Two guys were taking Chemistry at the University of Alabama. They did pretty well on all of the quizzes and the midterms and labs, such that going into the final they had a solid "A". These two friends were so confident going into the final that the weekend before finals week (even though the Chemistry final was on Monday), they decided to go up to the University of Tennessee and party with some friends. They had a great time. However, with hangovers and everything, they overslept all day Sunday and didn't make it back to Alabama until early Monday morning.
Rather than taking the final then, they found their professor after the final to explain to him why they missed the final. They told him that they went up to the University of Tennessee for the weekend, and had planned to come back in time to study, but that they had a flat tire on the way back, and didn't have a spare, and couldn't get help for a long time, so they were late in getting back to campus.
The professor thought this over and told them they could make up the final on the following day. The two guys were elated and relieved. They studied that night and went in the next day for the final.
The professor placed them in separate rooms, and handed each of them a Test booklet and told them to begin. They looked at the first problem, which was worth 5 Points. It was something simple about Molarity & Solutions.
"Cool," they thought. "This is going to be easy." They did that problem and then turned the page.
They were not prepared, however, for what they saw on this page.
It said: (95 Points)- Which tire??


"Kind words can be short and easy to speak, but their echoes are truly endless."

Mother Teresa "The human race has one really effective weapon, and that is laughter." Mark Twain "Perseverance is not a long race; it is many short races one after another." Walter Elliott "Good and quickly seldom meet." George Herbert "Don't find fault. Find a remedy." Henry Ford "Those who make the worst use of their time are the first to complain of its brevity." Jean de la Bruyere "The very first step toward success in any occupation is to become interested in it." Sir William Oster (1849 - 1919) "Imagination is more important than knowledge. Knowledge is limited. Imagination encircles the world" Albert Einstein


| | |
| --- | --- |
| | Nominating your favorite learning center professional for the Person of the Month corner. |
| | Submitting articles of interest to learning centers professionals. |
| | Sending conference announcements and information. |
| | Sharing resource information with your peers (web sites, lists, etc.) |
| | Giving tips and sharing your insight regarding learning centers administration and promotion. |
Submitting your article will make you more famous and will help your fellow administrators worldwide! E-mail your submissions to:
newsletter@attendance-tracking.com

Feedback
We certainly hope you find this newsletter useful and entertaining. If you have any suggestions, tips, or comments, send us e-mail by clicking here.

About the Authors
This newsletter is produced by Mon Nasser from Engineerica Systems, Inc. My thanks to Sue Knight for her article and suggestions for this newsletter, and to Muriel Harris for the information he provided for the Person of the Month and the Publication of the Month corners.

To subscribe to The Learning Center Newsletter, simply fill-in the quick subscription form at this site:
http://www.attendance-tracking.com/learning_center_newsletter.htm
Only those that subscribe to The Learning Center Newsletter receive it. However, if you wish to unsubscribe, e-mail to:
unsubscribe@attendance-tracking.com
Please tell your peers about this newsletter.